December , 2020 - January, 2021
HFA and SUNY Collaborates through a Virtual Exchange Program
Heroes for All and the College of Brockport at State University of New York ( SUNY) collaborated for the first time under International Study Abroad program bringing 9 students from USA on board to design programs reflecting the SDG goals for HFA.the 5 week session started in December , 2020 and concluded in January, 2021

Pamela Beach, Ph.D, Professor of Motor Behavior & Associate Director of Honors College in Brockport spearheaded and supervised the SUNY class while Rehnuma Karim, Ph.D - the Founder and President of HFA coordinated the collaboration.


While developing the programs for HFA, the students paid attention to the following core goals of HFA :



1) To instill the ability of transformational leadership in young people so they can emerge as a force of positive change in their communities

2) To promote awareness on diversity and inclusion for building conscious global citizen who will be compassionate and responsible towards others with disability and differences

3) To create a connecting platform of individuals, organizations and community members who would work together to build a supportive environment of positive growth to help the youth reach their true potential

4) To build awareness on the positive use of leisure time that can foster self-expression, development of identity, feelings of autonomy and sense of achievement.

Students and HFA executive members were teamed up for the duration and came up with three engaging knowledge-based workshop and programs which were 2 workshops for Kids and teens in Bangladesh and a series podcast interview involving 4 female career women from both countries.

Mahmuda Mannan and Syed Abu Saleh Symon were teamed up with Angela Gagnon, Justin Czaja and Samiya Islam to develop an interactive workshop on emotional intelligence involving 6 Bangladeshi teenagers to discuss their emotion management and state during COVID times.

Charisse Everette, Matt Denatale and Logan were teamed with Yeasrib Hassan to design an engaging motor skill development workshop for kids aged 5 to 7 .

And last but not the least, Sam Lang, Michele Lammers and Hunter Livingston's we're teamed up with Shashwatee Tama to create a very informative Podcast conversations titled " Pathway to Prosperity" interviewing 4 women in different career path from both USA and Bangladesh on challenges and scopes of women in workforce.

The classes also brought speakers such as Ms. Monira Rahman, the Founder and President of Innovation for Well being foundation to discuss the significance and status of Mental Health Programs in Bangladesh.



Following are some reflections on this global experience by the participating students :



Charisse said, " HFA is an organization about action and about change." I am all for the betterment of our country and our world. I feel learning about the SDG opened my eyes to what more needs to be done."

Hunter Said, " helping to get connections and just giving us information and personal stories helped us through this project. It helped to understand how different cultures operate and how much different the United States really is form other places. It gives me a want to travel more when everything opens up and just experience different places and learn about them. The only thing I would have changed about this experience I would have changed would have been being able to actually travel to Bangladesh but hopefully we are able to do so in the future. It was a lot of fun working with Heroes for All and I hope to be able to work with them in the future as well."

Logan. "The class began with a discussion about being culturally competent and what it means to be a global citizen. I had never heard of these terms, much less given any thought about them. But, having the opportunity to sit down with my team members and the representatives from Heroes for All, including Dr. Karim, it has made me realize just how important it means to be culturally aware of my surroundings."

"The joy that we were able to create for those kids made an impact on me because I never thought I would have the opportunity to make a difference, let alone on children in a different country. It was incredible to work with the team from Heroes for All. They were always willing to help us with our project and provided a lot of help finding children to participate in our program. There was absolutely no negative about collaborating with them. There are so many positive things for me to take away from this experience and now I feel better equipped to teach other people about cultural competency and how stereotypes can negatively affect relationships between people and even other countries."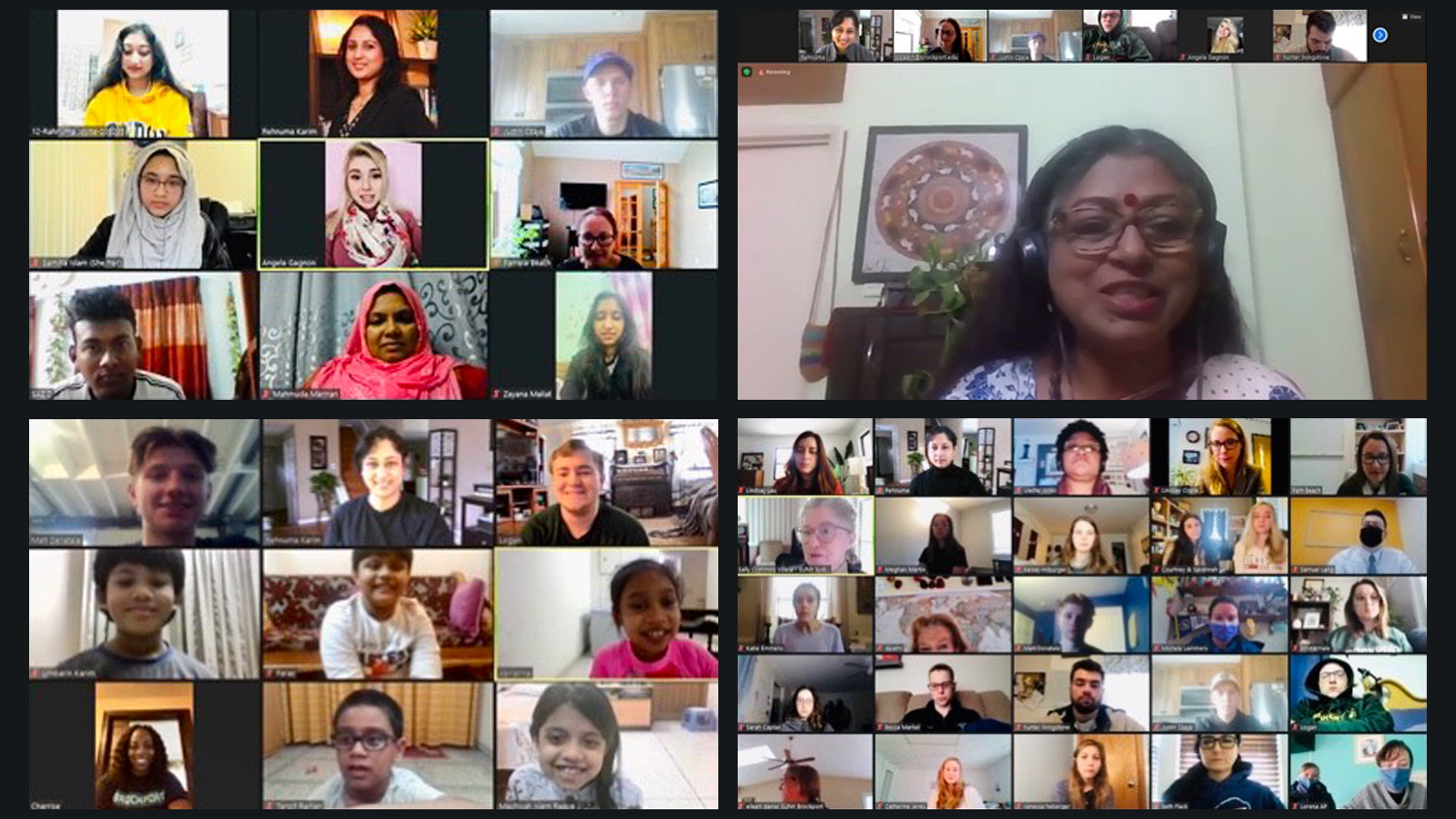 Knowledge Sessions :

A conversation with Dwayne Williams on Racial experiences in USA.


Participants :

Professionals, students from both USA and Bangladesh via Zoom to discuss the experience of being black in USA.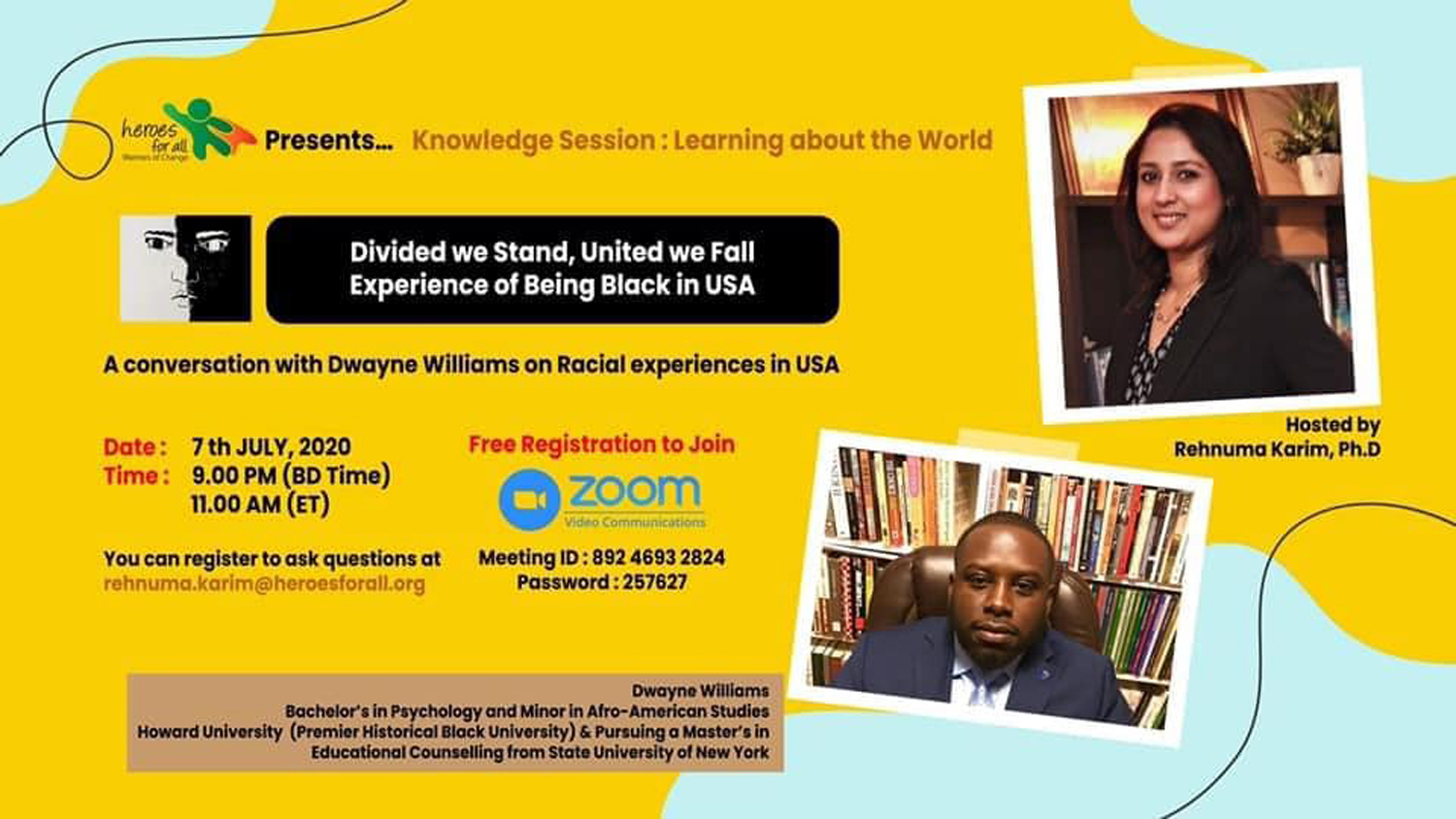 Wholesome Leadership :

An Integrated Approach of leading with Mind, Heart and Intuition.


Participants :

Young leaders and professionals interested in the emerging ideas on Leadership.
Women in Leadership :

A cross-cultural experience of Women Leaders in Bangladesh and in USA.


Participants :

Students, faculties, Professionals from College of Brockport, State University of New York and students from ULAB, Eastern University and NSU.